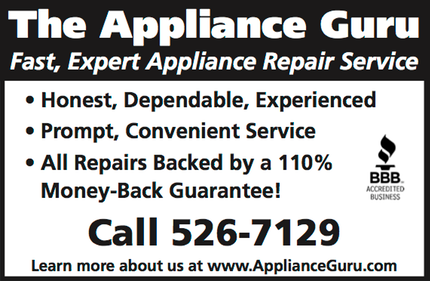 The Appliance Guru provides prompt, convenient appliance repair service in the following towns in New Hampshire: New London, Elkins, Wilmot, Andover, Springfield, Georges Mills, Sunapee, Mt. Sunapee, Newport, Newbury, Sutton, Warner, Grantham, and the Eastman Community.
We service all major appliance brands including...

Your Call: 

When you call for service at

603-526-7129

you'll usually get a live human.  In the off-chance that you get voicemail, it's because of poor cell phone coverage in the Lake Sunapee area.  And if you do leave a message, your call will be returned ASAP!

How Soon? 

We offer prompt, convenient service and can usually get to your home the same day or the next day.

Our Arrival: 

We can usually schedule a two-hour window for arrival at your house so you're not waiting around all day.

Our Guarantee to You: 

We only use factory-genuine, OEM parts in all our repairs-- no generics or after-market knockoffs.  What this means to you is that

we guarantee parts other than circuit boards for 5 years and replacement circuit boards for 1 year.  If these parts fail within their warranty period, they will be replaced at no charge to you!  Furthermore, all our repairs are backed by our unmatched 110% guarantee: If, in the unlikely event that The Appliance Guru's work does not fix the problem, you will receive a 110% REFUND.   We stand behind our work 110% and we put our money where our mouth is! 
For more info about our service, please see our FAQ page.  
Or, use this nifty form and we'll reply ASAP!
PRIVACY POLICY: We are committed to protecting your privacy at The Appliance Guru™. We will not collect any personal information from you that you do not volunteer, and we are the sole owner of all information collected on this site. We do not sell, share, or rent this information to others in any way that we have not mentioned in this statement.