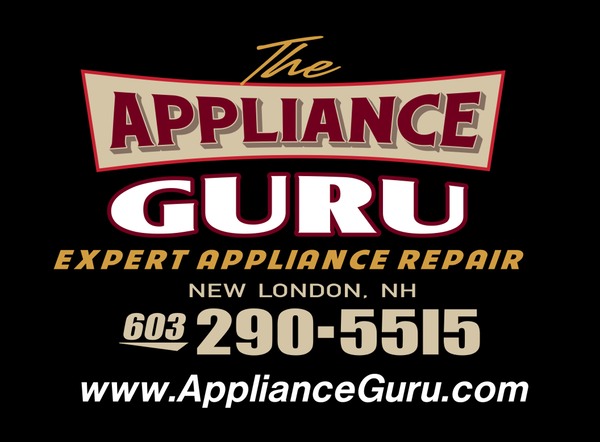 ➤ All Major Kitchen and Laundry Home Appliances

➤ Fixed Right, Fixed Right Away!


➤ Honest, Dependable, Experienced


➤ All Repairs Guaranteed 110%
The Appliance Guru provides convenient, expert appliance repair service in the following towns in New Hampshire: New London, Elkins, Wilmot, Andover, Springfield, Georges Mills, Sunapee, Mt. Sunapee, Newbury, Sutton, Warner, Grantham, and the Eastman Community.
Our TRIPLE Guarantees to You:  
We guarantee electrical parts for 1 year and mechanical parts for 5 years. If these parts fail within their warranty period, they will be replaced at no charge to you. How can we offer such a generous guarantee? Because we use only new, factory-genuine, OEM parts in all repairs— no generics or aftermarket knockoffs.
If The Appliance Guru's work does not fix the problem, you will receive a 110% REFUND. We stand behind our work 110% and we put our money where our mouth is.
If your appliance develops a second, different problem within 30 days, we'll do that repair at the same fee as if it were done in the first trip, which means no service call fee. 
About Us: Our technician has nearly 20 years of experience in his field and regularly attends manufacturer training sessions. Most of the time he will be able to do your repair during the first trip.  Best of all, his work is guaranteed to fix the problem! Read more about us on the About page.
For more info about our service, please see our FAQ page.  
Request a service call using the form below including an accurate and complete model number, and we'll take 10% off your invoice!
Logo design by Dale Flewelling at Art Attack Designs.